I swapped out the OEM footpegs for a set of knock-off RVF400 footpegs that I bought off of eBay.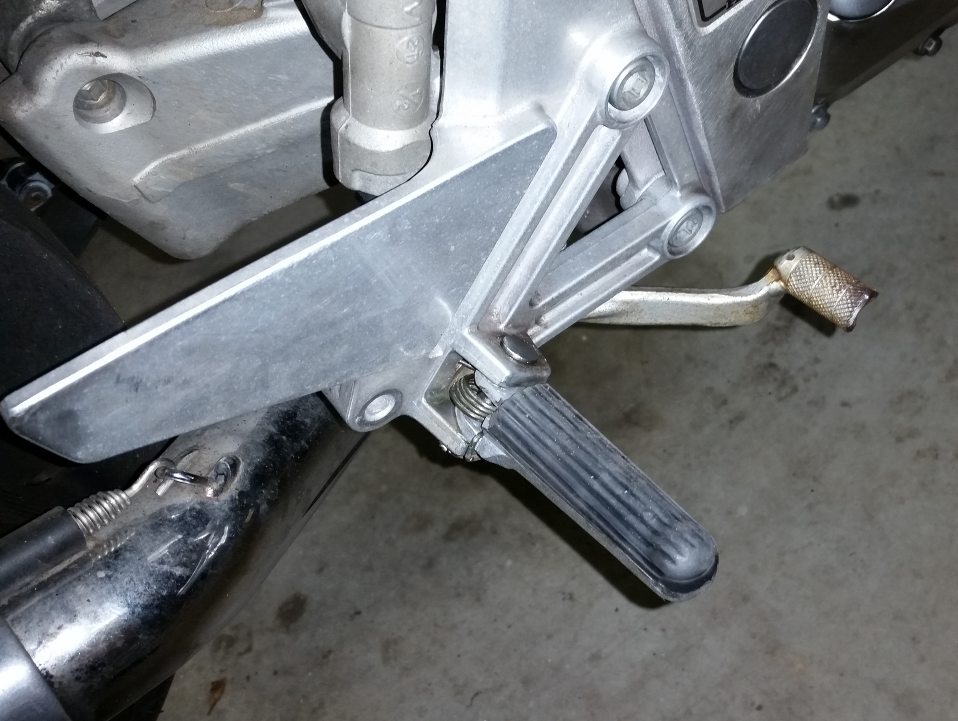 I had an OEM RVF400 pair that I had installed on the Hawk race bike in the late 90's that were destroyed in a crash. I had since forgotten exactly what they were until recently when I decided that I wanted to upgrade the pegs on the 1988 hawk. I know that a friend of mine had given them to me and that they would have been either RVF or RC-30 pegs and after looking at the parts listing of the two bikes decided that I would give the RVF pair a shot.
I found a knock-off pair on eBay for about $25 and gave them a try. Sure enough, they were the right kind and with a few additional OEM parts and a bit of sanding of the pegs I got them installed.
To install a set on your bike you will need the following:
A set of 1995 Honda RVF400 foot pegs. I am sure that the OEM ones are much nicer, but also a lot more expensive
Two OEM Honda springs. The left are right are different and they are used on about 50 different models so they should not be hard to find. The Honda part numbers are:
Left: 50644-445-840 (SPRING, L. STEP RETURN)
Right: 50617-445-840 (SPRING, R. STEP RETURN)
A belt sander
To install them:
Remove the cotter-pin and washer on the bottom of the pivot pin for the foot peg and pull out the pin. Throw away the cotter-pin.
You should be able to re-use the OEM pivot pin, or the ones that come with the foot pegs. It depends on exactly what you buy.
Using the belt-sander, sand down the outside faces of the two prongs on the foot pegs that slide into the foot peg bracket. Just sand a litte at a time until it fits properly. You do not want it to fit snugly, as it needs to move, but no too sloppily either.
Once you can slide the peg into the foot peg bracket you will need to sand down the curved edge of the same two brackets on the foot peg that you just sanded. You will need to do a little and then install and see if you can get them to fold down all of the way.
Once they are sanded down properly install the new spring with the pivot pin and the footpeg in the foot peg bracket as shown in the picture below.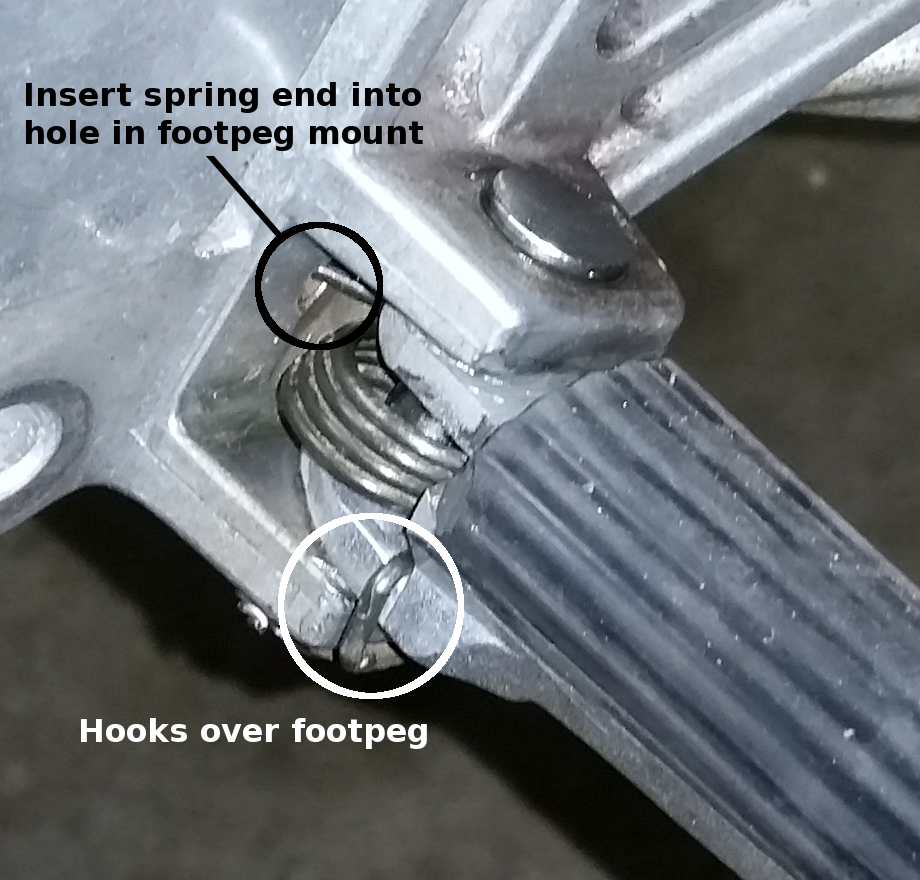 If you have any questions, go to the Contact page for details on how to get in touch with me and I will be happy to help.